Thomas family homestead
Located in
Mount Pleasant
Original function
House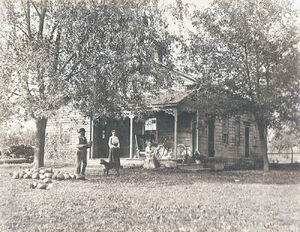 Thomas family homestead (farm) was located at Mount Pleasant, ON. People in the picture are James Madison "Matt" Thomas[1] (1844-1908) and his wife (seated) Martha Thomas, nee Secord[2] (1843-1924). The woman standing is one of their seven daughters, Orpha May Thomas[3] (1875-1942). The crop is believed to be watermelons, which were the tending chore for one of their other daughters Edythe Gertrude Thomas (1884-1969), who was a grandmother of Ross Dobson.
Photo and identification provided by Ross Dobson. See more about this family here http://images.ourontario.ca/brant/74298/data?n=39.
Memories about Thomas family homestead
You can contribute your own memories about Thomas family homestead by clicking here.
Links
Ad blocker interference detected!
Wikia is a free-to-use site that makes money from advertising. We have a modified experience for viewers using ad blockers

Wikia is not accessible if you've made further modifications. Remove the custom ad blocker rule(s) and the page will load as expected.