Paris Public Library
Address
12 William St.
Located in
Paris
Built in
1902
Renovated in
1995
Original function
Municipal
Current function
Library
Coordinates
43° 11' 37", -80° 23' 10"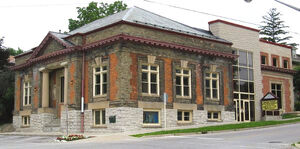 The Paris library was originally created in 1841, when Hiram Capron, founder of Paris, and twenty-five residents formed the Paris Mutual Institute for the purpose of Lectures, Circulating Library and Scientific experiments. Later that year the name was changed to the Paris Mechanics' Institute so that the organization could apply for government grants.
In 1858 Paris' first public library was established when a lot located at 7 Grand River Street North in Paris was purchased from Hiram Capron for $150. The Paris library then expanded after receiving a Carnegie grant in 1902 and the new free public library was located at 12 William Street, where the library remains today. The branch was renovated and expanded again in 1995. In 1999, when the County amalgamated, it became the central branch of the County of Brant Public Library.
Links