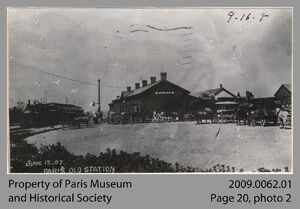 The Paris Junction was the junction between the two railway lines that ran through Paris, which belonged to the Great Western Railway and the Buffalo-Goderich Railway. Both lines were later taken over by the Grand Trunk Railway, and are still operated today by Canadian National Railways.
Passenger service, however, is no longer provided. The Paris Junction station was demolished in 1907, replaced by the Helen St. railway station that has also been demolished many years ago.
Memories about Paris Junction
You can contribute your own memories about Paris Junction by clicking here.
Links
Ad blocker interference detected!
Wikia is a free-to-use site that makes money from advertising. We have a modified experience for viewers using ad blockers

Wikia is not accessible if you've made further modifications. Remove the custom ad blocker rule(s) and the page will load as expected.