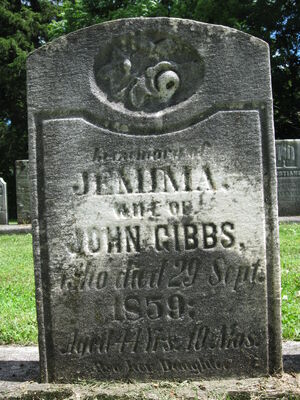 The bottom part of the headstone is missing, so her daughter's name is unknown.
In memory of
JEMIMA
WIFE OF
JOHN GIBBS
Who died 29 Sept.
1859
Aged 44 Yrs 10 Mos
Also her daughter
[headstone ends]
Ad blocker interference detected!
Wikia is a free-to-use site that makes money from advertising. We have a modified experience for viewers using ad blockers

Wikia is not accessible if you've made further modifications. Remove the custom ad blocker rule(s) and the page will load as expected.