Dr. Sowden House & Dispensary
Address
5 - 7 Burwell St.
Located in
Paris
Built in
1845
Renovated in
1851
Original function
House
Current function
House
Coordinates
43° 11' 27", -80° 22' 46"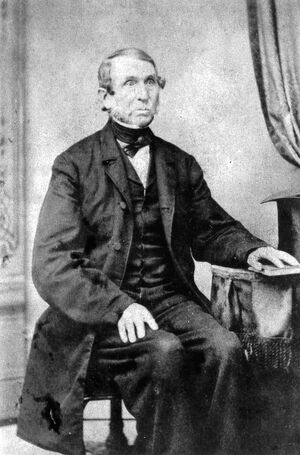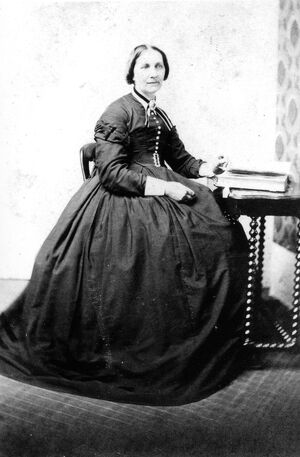 The Sowden House was the home and office of Dr. Sowden, an early doctor. The original home was built in the distinctive cobblestone style, though it has a recent addition in a more modern style. It is currently owned by Roger Moriarity.
The home
The Sowden House was built around 1845[1] for Dr. Samuel Sowden, one of Paris's first druggists. It was one of the later cobblestone houses built by Levi Boughton, and its design is a testimony to his skill. Its most striking feature is the unique curved corner, lined by evenly rounded cobblestones all along the rounded edge[2] — a refined feature rare even in New York, where cobblestone architecture is more common[3]. The back of the house, which is not visible from the street, is finished in fieldstone[4].
It acted as a combination living space and business. Sowden was a druggist; the rounded corner led to his dispensary where he sold medication[5]. The original shutter door design has been restored, and the original inner doors are still present.
The owners
Dr. Samuel Sowden
Samuel Sowden (1807 - 1872) was born in Scotland, but later immigrated to Canada at an unknown date. He had emigrated by 1843, when he married Elizabeth Simpson (1822-1903) with whom he had four children — George (c. 1845), Ann (c. 1848), Sarah (c. 1849), and Samuel (c. 1853). He lived in Normandale before moving to Paris, and may well have met Hiram Capron there. However, it would not be for a number of years that he would follow Capron to Paris; he purchased a lot from Capron on May 19, 1844, for £12, 10s — plus an extra 5s to Mary De Long Capron for her dower.
Sowden certainly diversified his business; a 1851 business directory lists him as a chemist, druggist, stationer and bookseller. He stayed in Paris for most of the rest of his life, but returned to Scotland in 1870 with failing health.
Hall family
The second owner of the house was Thomas Hall (January 31, 1835 - July 14, 1913), also from Scotland. He was born in Clackmanan, and immigrated to Canada in 1855. He first moved to Montreal, before moving to Paris a year later. Most of his early activities are unknown, but a directory from that period lists a Thomas Hall who was employed by Robert More, a dealer in dry goods, groceries, wines and liquor, hardware, glass and crockery.
Hall opened his own dry goods business in 1862, the same year he married his wife Mary Ann Gibson (March 31, 1836 - July, 1919) in Alloa, Scotland. They moved in with Sowden in 1865. In 1870, when Sowden returned to Scotland, he sold the house to the Halls for a sum of $243.50, to be paid in two half yearly payments of $121.75. This was to continue for the remainder of Sowden's life, which would not be much longer — while the exact date of his death is not known, family legend has it that he died in Denny, Scotland in December, 1872.
Thomas Hall closed his store in 1872 and the family followed Sowden's lead back to Scotland in 1872. However, they did not stay there long; they returned sometime later, at an unknown date, and around 1880 he became a collector of customs in Canada. He would hold this position for twenty-five years.
The family had six children — Mary Milliner Hall (b. 1863); William Hall (b. 1865); John M. Hall (b. 1867); Jean Watson Hall (b. 1869); Margaret Bradley Hall (b. 1871); Thomas Gibson Hall (b. 1874). In 1891, at the age of 23, John M. Hall opened the dry goods store which is still operating under his name in downtown Paris.
The last of the immediate family, Jean Watson Hall, died in 1964. The house fell to two nieces from California and Arizona, who never lived there. The house would be sold later to James Dinsmore of Brantford, who converted the house into apartments and rented it for several years. In 1968, Dinsmore sold the house to John Muir; he later sold it to the present owner, Roger Moriarity. Over the last five years, he has converted the house back to its original floorplan.
Notes
References
Ashenburg, Katherine. (1996). Going to Town. Toronto: Macfarlane Walter & Ross.
Chapple, Nina. (2006). A Heritage of Stone: Buildings of Niagara, St. Catharines, the Hamilton Escarpment, Paris, Cambridge, Waterloo County, Guelph, Fergus and Elora and St. Marys. Toronto: Lorimer.
Neal, Carolyn. (1976). Paris & Wolverton: A Tour Organized by the Toronto Region Architectural Conservancy of Ontario. Toronto: Toronto Region Architectural Conservancy of Ontario.
Wise, Julie. (n.d.) Cobblestone charm. Your Guide to the Prettiest Town in Canada & The Country's Cobblestone Capital. No publisher. 14.
Memories about Dr. Sowden House & Dispensary
You can contribute your own memories about Dr. Sowden House & Dispensary by clicking here.
Links