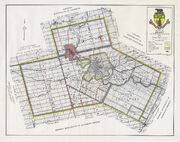 The
County of Brant
is a single-tier municipality in Ontario which comprises a number of smaller communities. Its population was 34,415
[1]
in 2006.
The largest communities in Brant are:
Its main and historical communities include: Bishopsgate, Burford, Burtch, Cainsville, Cathcart, East Oakland, Etonia, Fairfield, Falkland, Glen Morris, Gobles, Harrisburg, Harley, Hatchley, Langford, Lockie, Maple Grove, Middleport, Mount Pleasant, Mount Vernon, New Durham, Newport, Northfield, Northfield Centre, Oakland, Onondaga, Osborne Corners, Paris, Scotland, and St. George.
Ad blocker interference detected!
Wikia is a free-to-use site that makes money from advertising. We have a modified experience for viewers using ad blockers

Wikia is not accessible if you've made further modifications. Remove the custom ad blocker rule(s) and the page will load as expected.