Canadian Milk Products Plant
Address
Malpe Ave South
Located in
Burford
Built in
1916
Original function
Business
Current function
Demolished in 2010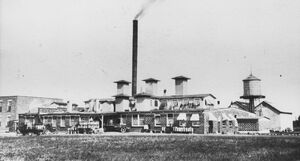 The Canadian Milk Products Plant, in Burford, was built in 1916 on Maple Ave. South. It was located southwest of the railway crossing.
Originally a milk products plant, producing items such as powdered milk and ice cream powder, it was purchased in 1932 by The Borden Company who later transformed it into a milk receiving station. Managers include Bob McArter and Harry Henderson. The property was the site of Don Henderson's Technical Services until 2010, when it was purchased by Home Hardware and demolished.
Memories about Canadian Milk Products Plant
You can contribute your own memories about Canadian Milk Products Plant by clicking here.
Links
Ad blocker interference detected!
Wikia is a free-to-use site that makes money from advertising. We have a modified experience for viewers using ad blockers

Wikia is not accessible if you've made further modifications. Remove the custom ad blocker rule(s) and the page will load as expected.