Arlington Hotel
Address
106 Grand River St. N.
Located in
Paris
Built in
1851
Original function
Business
Current function
Hotel
Coordinates
43° 11' 39", -80° 23' 5"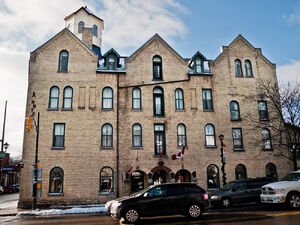 The Arlington Hotel in Paris is a hotel that was built in the 1850s. It is located at 106 Grand River St. N., at the corner of William St.
The Arlington was finally reopened under new ownership in 2014. The, restaurant, the Forks, is a tribute to the original name of Paris as it was originally known as the Fork of the Nith and Grand Rivers.
Memories about Arlington Hotel
You can contribute your own memories about Arlington Hotel by clicking here.
Links